Community Visitor Scheme
Login
Publications
The Community Visitor Scheme produces:
posters
brochures
annual reports.
You are welcome to view and download resources, or order resources using the online form. There is no charge for this service.
*If you have problems accessing or reading this online form, you can request a copy to be made available to you in an alternative format. Please email cvs@sa.gov.au to request an alternative version.
News
Community Visitor visits via videoconferencing
On Wednesday, 8 April 2020, the SA Parliament passed legislation and with regulations made on 14 April 2020, which allows the Principal Community Visitor and other appointed Community Visitors to conduct 'Virtual Visits' to people who may have a special order as a result of possible exposure to COVID-19.
The Principal Community Visitor has been given additional functions and powers through the COVID-19 Response Act 2020 and subsequent COVID-19 Emergency Response (Schedule 1) Regulations 2020 to enable Community Visitors to visit clients in alternative ways, namely by audio-visual means for the people who have a special order to keep them safe from contracting or exposure to COVID-19. The Community Visitor Scheme will be commencing 'virtual visits' as soon as possible by video link and/or phone. More information will be provided as it becomes available.
Further information on the new legislation and regulations can be found via the links below:
COVID-19 Emergency Response Act 2020
COVID-19 Emergency Response (Schedule 1) Regulations 2020
'The Advocate' newsletter
'The Advocate' is a twice-yearly newsletter aimed at ensuring our key stakeholders are kept up to date with significant issues, policy work and good news stories as a result of work done by the Community Visitor Scheme.
2018 Editions
The Advocate 5th Edition December 2018 (PDF 255.9 KB)
The Advocate 4th Edition May 2018 (PDF 7.9 MB)
2017 Editions
The Advocate 3rd Edition December 2017 (PDF 762.7 KB)
The Advocate 2nd Edition May 2017 (PDF 471.7 KB)
2016 Edition
Resources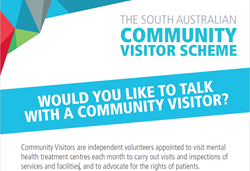 Community Visitor Scheme Mental Health Poster A3, A4, or A5
Community Visitors are independent volunteers appointed to visit mental health treatment centres each month to carry out visits and inspections of services ....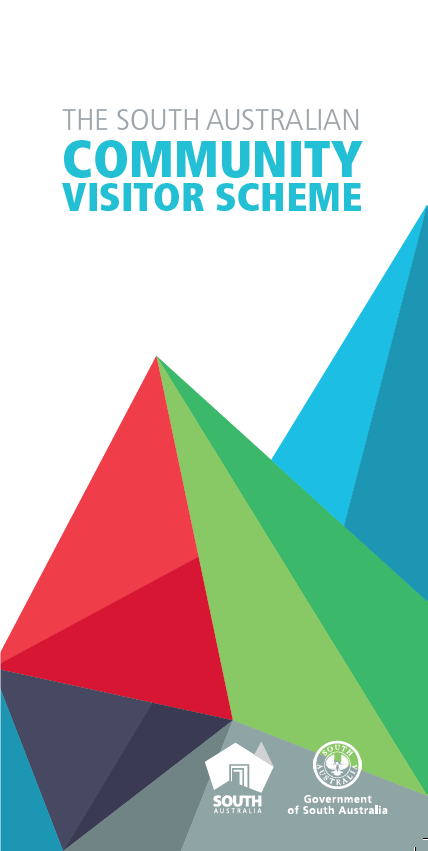 Community Visitor Scheme DL Brochure
Our brochure sets out who we are, who we visit and how we can help.