Community Visitor Scheme
Login
Publications
The Community Visitor Scheme produces:
posters
brochures
annual reports.
You are welcome to view and download resources, or order resources using the online form. There is no charge for this service.
*If you have problems accessing or reading this online form, you can request a copy to be made available to you in an alternative format. Please email cvs@sa.gov.au to request an alternative version.
Resources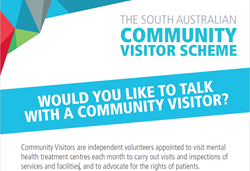 Community Visitor Scheme Mental Health Poster A3, A4, or A5
Community Visitors are independent volunteers appointed to visit mental health treatment centres each month to carry out visits and inspections of services ....
Principal Community Visitor Annual Report (Mental Health Services) 2017–18
The purpose of the Community Visitor Scheme is to protect the rights of people with a mental illness ...
Principal Community Visitor Annual Report (Disability Services) 2017–18
The functions of Community Visitors in the context of Disability Services, cover inspections of supported accommodation to ensure compliance ...